Humanity has gone through various stages since the first day of its existence and has continued to develop without stopping with every stage it has passed. It can be said that the revolutions and developments of humanity are based on cultural and scientific evolution. As a result of these stages, people have used technology in many areas to make their lives easier. One of these areas has been developments in internet and mobile applications.
Thanks to the development of these technologies, we can easily perform the operations we want to do with digital devices such as mobile phones, tablets and computers, anytime, anywhere. The services we can utilize cover a wide range from shopping and online education to banking transactions and have now become a big part of our lives. Not only individuals but also institutions benefit from these services and can handle their work more agile. Features Fintech applications have become the favorite of individuals who are interested in the financial world and institutions doing business in the financial world.
According to the results obtained from dozens of researches, the worldwide popularity of Fintech applications is increasing every year. The biggest indicator of this is that digital finance applications have increased by more than 300% in the last five years.
Platform and fintech applications that provide fintech services try to improve the digital experiences of their customers by increasing the quality of their services with the effect of increasing competition over time. Today, with this article, we will try to get detailed information about Fintech applications, their usage, features and how to create a mobile Fintech applications.
In order for companies to maintain competition and develop quality applications, they need to obtain and use data from healthy, up-to-date and reliable data sources. Finage can be shown as one of the most suitable data providers for these services.
Finage offers high quality financial data and industry best tools at competitive prices for engineers and developers. You can take advantage of many services, from customizable data packages to powerful APIs. With these services, Finage has become the data partner of many service developers in the financial markets by providing data API for Fintech.
Advantages and Benefits of Fintech and Mobile Payment Applications
Mobile payment applications;
Providing better cash flow management
Easy follow-up of the transactions made
Reducing the personnel requirement of small budget businesses
It has many advantages such as trading on mobile devices.
We can summarize the advantages of fintech applications for both companies and individuals as follows;
Low Development and Maintenance Costs
When developing an IOS or Android application, companies can reduce their costs up to 60% by using platforms such as Cordova, Xamarin or React Native.
Economic Benefits of Fintech Applications
Small enterprises are one of the units that make the most important contribution to the development of economies due to their large number and employing a large number of people in total. However, these businesses may not always have sufficient capital. Fintech applications, on the other hand, facilitate the work of SMEs by providing financial solutions and eliminate the need to hire new people to manage finances.
Improving Customer Experiences
Being able to perform transactions easily and at any time increases the popularity of Fintech applications by making the customer experience more enjoyable and efficient.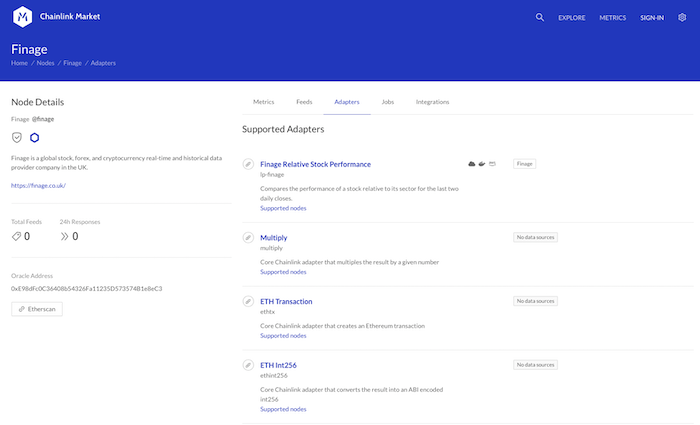 *Finage node adapters on Chainlink Market
Promoting User Participation
Fintech applications are also very useful when targeting a specific audience of users by providing instant information about transactions in their accounts and using marketing data.
After briefly mentioning the benefits of fintech applications, we can talk about the features they should have.
How to Build Fintech Mobile App with API ?
As with every application, platforms can increase their popularity with the features and quality they offer to their customers. Below are listed the features of a quality Fintech application.
Easy to Use and Understand
One of the most important aspects of a quality Fintech application is ease of operation and use. In addition to an interface that organizes financial data, displays transaction history, and provides simple analytical tools, Fintech mobile apps should include real-time data tables that help them increase their revenue. At this point, the importance of correct data is once again seen and the advantages of taking advantage of Finage are once again seen.
Protection and Security of Sensitive Data
Fintech applications contain all kinds of financial data of their users. Increasing cyberattacks have made Fintech application users more sensitive. For this reason, safety has become an extremely important item in Fintech applications. For this reason, developers have to take some extra security measures while developing applications.
Blockchain and Cryptocurrency
Blockchain is one of the latest and most effective developments in the technology world. Blockchain, an anonymous payment method of unknown origin created by the transferred data packets, is still not approved by some governments, but has gained a partial foothold in the industry.
API Integration
Thanks to APIs, a large application can be created by integrating multiple platforms. APIs provide many convenience in the application development process.
Support
One of the most important needs of the Fintech application users is live support that they can reach at any time of the day. This support can be provided by robots or robot-human combinations.
Empower the Customer through Personalization
One of the most important features that fintech apps have to offer is a personalized customer experience. In this way, users can use applications efficiently by improving their experience.
Now that the features of a quality Fintech application are mentioned, the application development phase can be started.
How to create a Fintech Mobile App
To develop a fintech application requires a lot of technical knowledge so you need an experienced team to develop applications. Now we will briefly summarize the steps of application development.
Step 1: After doing your research, define the MVP scope by planning for the appearance and features of the app
Step 2: Hire a developer team to develop the app.
Step 3: Choose the software language you will use. Using different software languages ​​for IOS and Android will increase the cost of development. So you can use Cross-platform application development, to reduce your cost by 60%.
Step 4: Design the user interface in eye-catching colors and ease of use.
Step 5: Try it with specific customers by launching a Beta app to test the app
Step 6: Update your app from time to time by following the innovations in the industry.
As a result
Developing technology has brought many innovations in the finance sector, so Fintech applications have become one of the most important and biggest innovations in the finance industry. Fintech practices seem to be a good opportunity for many individuals and organizations.
Research shows that traditional companies will cooperate with Fintech companies 80% more in the next 5 years. Because this is now a practice of the developing world and has become necessary in order not to miss the era. However, there are many points to be considered while doing these. These points are to reduce costs and use the right data and platforms. Bringing the two together at a single point will be life-saving. At this point, the importance of Finage is once again understood. It makes great contributions to the financial world with its services, data and applications. Some of the API's and services provided by Finage are Stocks API, Cryptocurrencies API, Forex API, Fundamentals API and Widgets. For more information Finage homepage.