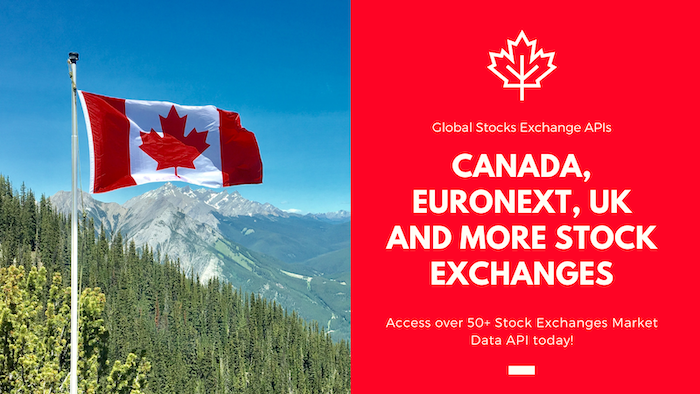 Stock Prices API
Humanity has made significant technical development in the last 100 years. These technological advancements have been advantageous in a variety of fields, including agriculture and information technology.
This technological advancement, which affects every element of human life, has had an impact on financial markets, notably the stock market, resulting in a paradigm shift. In response to this transition, innovative technologies such as cloud-based application programming interface (API) have emerged, and their ramifications have just recently begun to be recognized. But first, we'll look at the strategists' predictions, and then we'll talk about stock market API.
Strategists are raising their stock market forecasts for 2021, however further gains may be limited
Stocks are expected to continue to rise until the end of 2021, according to Wall Street businesses. For the first three months of the year, corporate earnings report far above forecasts, with sales and profits boosted by rising demand as economic activity ramps up. However, concerns about the pace of the recovery as we approach the end of the year persist, as do uncertainties about when the Federal Reserve would begin to withdraw its robust monetary policy assistance. Much of this year's gain has already occurred, with stocks up 11.6 percent year to date through market close on May 3.
Here's what some Wall Street analysts are predicting for the remainder of 2021 in terms of the stock market in the United States.
Stocks should grind higher by year's end, but 'anticipate a pullback or heightened volatility in the market before the year is done,' according to RBC Capital Markets (Target: 4,325; EPS: $187)
RBC Capital Markets raised its earnings forecast for the S&P 500, citing a more positive view for corporate profits this year. Expectations for a higher corporation tax rate are also factored in. Following an extraordinarily robust first few months of the year, RBC predicts a fall in equities by year's end.
RBC Capital researcher Lori Calvasina writes, "Our updated price target now allows for some little multiple expansion (from 20.1x to 21.6x on ahead [price-earnings multiples), corresponding with the minor growth we are witnessing in the Fed's balance sheet." "The message we're giving with these changes is that we think there's a bit more room for equities to rise this year, but we're still expecting a pullback," she adds.
Calvasina believes that 2021 will be a good year for the stock market in the United States. Investors, she claims, aren't paying enough attention to Biden's spending ambitions. She adds, "However, we continue to see euphoric investor sentiment/positioning."
'Every 1% increase in nominal GDP leads to a 2.5 percent -3 percent increase in S&P 500 revenues,' according to Credit Suisse (target: 4,600; EPS: $200).
For the third time in the previous six months, Credit Suisse strategist Jonathan Golub raised his S&P 500 forecast. Golub believes that a more bullish approach on stocks is supported by a more positive view of corporate earnings and favorable forecasts for the economy. The new year-end S&P500 price objective of 4,600 implies a 9.7% increase from present levels. According to Golub, every 1% increase in nominal GDP results in a 2.5-3 percent increase in revenue. He noted that positive modifications might persist for another two to three years.
He said that rising expectations help support greater gains in stocks. Rising commodity prices, according to the expert, contribute to higher margins as corporations pass on more expenses.
Equities are anticipated to climb, pull back temporarily, and then climb to new highs by year's end, according to Deutsche Bank (target: 4,100; EPS: $202).
Binky Chadha, an equity strategist at Deutsche Bank, now expects even greater potential for stocks. Additional fiscal stimulus is expected to help bolster an economy that is still in the early stages of its post-pandemic recovery. In addition, the business now expects aggregate S&P 500 earnings to rise 43 percent to $202 this year, up from $194 before. Energy, financials and cyclical sectors are among Deutsche Bank's top selections, with the 10-year Treasury yield expected to close the year between 2% and 2.25 percent. On the basis of a global cyclical comeback, the bank favors the more cyclical EM [emerging markets], Europe, and Japan over the US. The secular growth group is neutral, while defensives are underweight and cyclical emerging market markets are overweight.
'Fiscal stimulus could benefit consumer-facing cyclical,' says Goldman Sachs (Target: 4,300; EPS: $181).
This month, Goldman Sachs raised its S&P 500 revenue target, citing an unexpected increase in corporate profit reports. The analysts kept their price target for the S&P 500 at 4,300, representing a 9.3% gain from the index's record finish on Feb. 12. Whirlpool, Charles Schwab, 3M, and Facebook are among the cyclical stocks that seem intriguing owing to correlations with consumer spending and significant profit growth over the last year, according to the business. According to the strategists, the US is planning on a new series of virus-relief measures that will stimulate consumer spending and thereby company profitability.
Understanding Stock market APIs
Thanks to exchange APIs, data consumers such as traders, investors, and software developers may readily gather and interact with one another. Stock APIs are generally used to facilitate data sharing, access, and payment. If these stock APIs did not exist, it would be necessary to write sophisticated code to retrieve raw data straight from the stock market. These APIs are a godsend since they enable the retrieval of real-time stock market data in a clean, consistent, and well-formatted style. On Finage's website, you may learn more about these Stock APIs.
Stock APIs are particularly good at parsing raw market data and presenting it in a logical format. They may be used to watch and forecast stock, currency, and fixed-income market movements. To analyze raw data, a data-driven market player will need to write complex programs. There's more to an API than just data quality, and knowing what you're getting is critical. Some stock API service providers give data that is 1% to 5% off the original price.
Adjusted vs Unadjusted historical prices
There are things called "corporate actions" that can alter the closing price of a stock retrospectively. A stock split is an example of business action. A 2–1 stock split means a firm chose to double the number of shares each shareholder possesses while also halves the price of each share. If you built a strategy using uncorrected closing prices, you'd notice enormous price swings, which would throw your price forecast off. If you held 10 shares of TSLA at $200, you now possess 20 shares for $100, but each is still worth $2,000 in total.
You must know if the price data comes from a single exchange or an aggregation when you get it. Your data will always be inaccurate if you acquire price from one exchange but never trade on that exchange. Aggregation might be beneficial since it provides a more accurate price signal for the entire market.
Yahoo Finance API or Google Finance API
Digital advertising is big business for Google and Yahoo, yet serving ads via APIs is challenging, if not impossible. Official support for the Yahoo Finance API and Google Finance API was halted owing to a misalignment between the advertising income model and the API business goal. Both companies continue to provide financial market information through their websites (with adverts, of course). Yahoo Finance and Google Finance, for example, continue to operate as financial market information websites (with adverts, of course).
Finage Stock API
Finage is one of the top data providers, allowing you to get real-time data based on artificial intelligence and cutting-edge technology to support your algorithmic trading techniques. Finage has the benefit of having subscription fees that are the same for private investors and large financial institutions. Finage offers you the same data quality that it delivers to huge investment businesses at the same price, even if you are only interested in the stock exchange as a hobby. The server, whose tagline is "financial data for everyone," allows users to purchase and sell financial data, apps, investor finance software, and tools.
Finage uses Websocket and its API to give real-time and historical data on global equities, FX, cryptocurrencies, and critical financial statements. In comparison to other pricey market data transmitters, Finage API gives up to 100% price accuracy and real-time stock price data. Finage users can utilize the stock API regardless of their account type or trading location.
If you're using a provider for historical pricing, you should also determine if it provides an up-to-date endpoint. This is a rather straightforward thing to keep an eye out for.
Conclusion
There are various aspects to consider when choosing a market data provider. A technological revolution has occurred in the financial industry. It is critical to obtain precise and reliable data in this ecosystem, which has a huge number of actors and data suppliers. A careful decision must be taken whether to use a real-time web service or one that is updated more often. In today's financial world, having the easiest and fastest currency, stock, and cryptocurrency API with the lowest latency is critical.